Mexican Fiesta Picante Margarita 8%
A sharp and spicy cocktail, our long Picante Margarita combines the golden flavours of aged tequila with lip-smacking tangy lime, sweet agave nectar, and a kick of Scotch Bonnet chilli.
Tasting notes
SPICY | SOUR | CITRUS
Wheat Flour [Calcium, Iron, Niacin, Thiamin], Butter (Milk), Lancashire Cheese 21% (Milk)], Rice Flour, Mature Cheddar Cheese [Milk, Colour: Beta Carotene], Glaze (Contains Milk), Egg White, Spring Onion 0.9%, Mustard Powder. Sea Salt, Cayenne Pepper.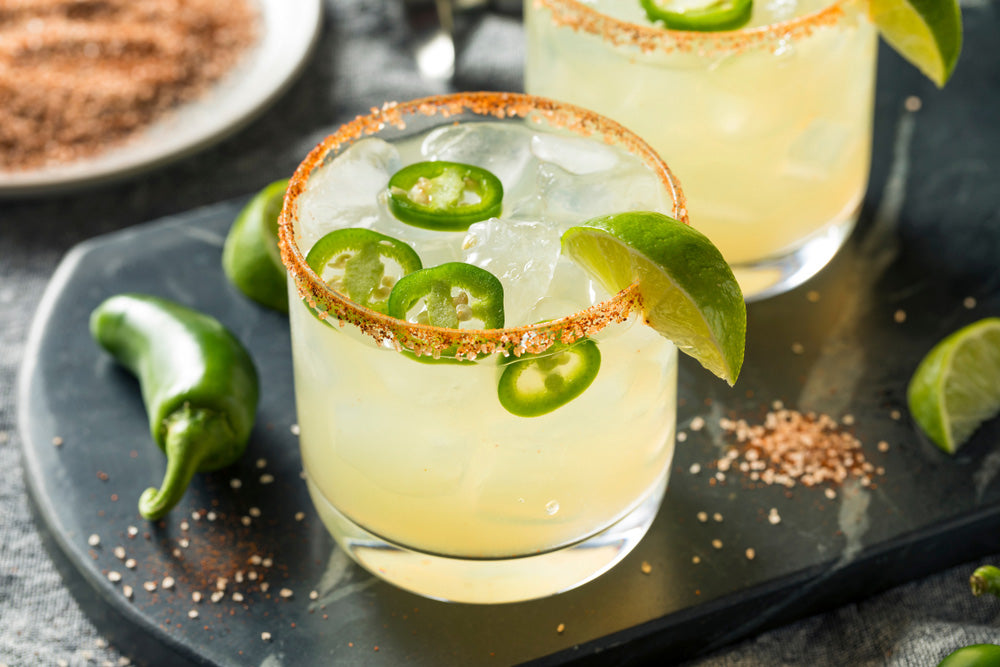 The Drink
We're all familiar with the classic Margarita, and to a lesser extent, the Tommy's version, but when did the spicy Margarita become part of our cocktail canon? While the proximity of spicy Mexican culture and cuisine was always within touching distance of a Margarita in the restaurant and bar world, it's actually quite a recent development to combine tequila with spice.
The same bartender responsible for the Tommy's Margarita, started infusing blanco tequila with habanero peppers in the early 2000s. From here, it was just a matter of time before this perfect blend of spice and tequila became known to the wider world, and by 2014, a full craze had been ignited in bars around the globe. There's something about the heat and savoury flavour, which really enhance the earthy agave-based tequila, and gives the sharp lime and salt something to play against.
Served ice cold, this is the perfect drink for a summer in the park, a party until late, or to accompany a delicious meal, anything from South American to tapas. The more bold flavours, the better. The trouble is, we guarantee you won't be able too stop at just one!